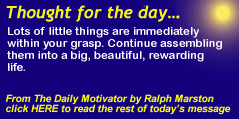 Are you "burned out" on your dreams, your job, your life, your relationships? I have a free tool to help you today begin the journey to igniting your energy and passion again. It doesn't cost you a thing. I am happy to provide it to you free of charge.

To get your free copy of the "BurnOut Checklist Tool" Click this link and send me an email with your request. I will send out your free tool ASAP

Please Send Me The Free Burnout Checklist Tool
YOU TUBE 2 VIDEO (AFFIRMATIONS) CLICK HERE

SCHEDULE YOUR SESSION OR WORKSHOP FOR "SERENITY NOW"...OUR AMAZING STRESS RELIEF PROGRAM!!! IT'S THE PERFECT START FOR CREATING A LIFE YOU LOVE IN 2014.
This is your place to discover who you are and what you truly desire from life!
Your dream life has never been closer to reality!
With a personal life or business coach, you can explore your innermost desires, strengths and obstacles to success in life and career. Using the tools that your coach shares with you, your life will begin to change in ways that direct you toward your goals faster than you ever imagined!
It used to be that having a personal life coach was only for the very wealthy, but now, everyone can afford a personal or business life coach. We specialize in issues of men and women who are in transition: life situation changes, career changes, relationship changes, self-esteem issues, small business development, and motivation and goalsetting for everyone. We also specialize in helping people "get out of a rut" in their life.
Explore this site and learn how having a personal life coach, business coach or career coach can benefit you now!
CLICK ON THE ONE DAY WONDERS TAB FOR OUR FUNSHOP DESCRIPTIONS

Professional Life Coach Cathy Webb